Posted on February 13, 2020 by Brandon Ruse .
5 Simple Ways To Ace Your Next Business Intelligence Interview – Part 1
Are you truly prepared to ace your next business intelligence interview? In the age of automation, business information and intelligence, if utilized strategically, has the power to propel a business far above their competitors as well as exponentially boost brand awareness and profitability. This makes business intelligence roles extremely valuable to corporations. 
The BI and analytics industry is expected to soar to a value of $26.50 billion by the end of 2021. Moreover, companies that use BI analytics are five times more likely to make swifter, more informed decisions.  In this 5 part mini-blog series, we will show you 5 simple ways you can ace your next business intelligence interview!
According to Forbes, "dashboards, reporting, end-user self-service, advanced visualization, and data warehousing are the top five most important technologies and initiatives strategic to BI in 2018." How do your skills line up with these initiatives? Are you ready to succeed in your next business intelligence interview?
5 Simple Ways To Ace Your Next Business Intelligence Interview
1) The First 5 Minutes Matter Most!
It's important to remember that acing your next business intelligence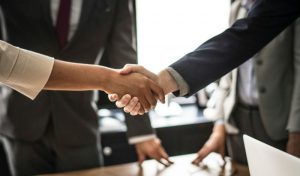 interview isn't just about being technically competent or having the best work samples to show off; it's also about how you portray yourself in the first 5 minutes. Your interviewer is looking to see how you'll fit into the organization and how well your experience and skill-set can help you solve problems.  
So, during your next business analyst interview remember the following tips:
Entry to the room –

Ask for permission to enter the room and walk up to the interviewer confidently.

Handshake –

Ensure you have a firm handshake.

Eye contact –

Look right into the eyes of the interviewer while speaking as well as listening.

Body language –

Rest your hands on your thighs, maintain an upright posture and make sure you are not fidgeting.

Introductory pitch –

While introducing yourself, don't go on to ramble your complete work history (the interviewer can read that off your resume), instead, concentrate on highlighting your broad and diverse skill-set, accolades, along with the quality of your work experience.
More Quick Tips to Help You Ace the First 5 Minutes of your BI Interview  
Assume that your resume has already been read.

Be confident but not cocky.

Be focused and be clear.

Keep your answers on point and don't tell overly long stories. 
Being prepared in the first 5 minutes is extremely important, but more than this, it's also knowing what NOT to do. Forbes put together a list of seven job interview mistakes you probably don't realize you're making. These mistakes include wanting any job and not the one you're interviewing for, putting yourself first, and even basic hygiene errors such as looking tired or not dressing for success.  Colaberry's online data analytics courses will help you to perfect the first 5 minutes of your interview with our revolutionary learning platform, Refactored.ai. 
Acing your next business intelligence interview isn't just about connecting with the interviewer and sailing through the first 5 minutes. It's also about being prepared so that you can build a rapport and present yourself and your ideas in a way that shows you're ready to assume the responsibilities of the role you're interviewing for. 
Stay tuned for the next mini-blog in this series. We will be releasing a short blog twice a week to help you ace your next business intelligence interview! 

Our Program 
Colaberry has been providing one-of-a-kind, career-oriented training in data analytics and data science since 2012. We offer instructor-led onsite and online classes. Learn with us in person on our campus in Plano, Texas or remotely from the comfort of your home. We have helped over 5,000 people to transform their lives with our immersive bootcamp-style programs.
In-Demand Skills
Colaberry training programs equip you with in-demand tech and human skills.  Our up-to-date lessons and carefully crafted curriculum set you up for success from day one. Throughout the training and the job search, our mentors will support and guide you as you transition into a fast-paced and exciting field of data analytics and data science. 
Project-Based Learning
Our programs integrate projects that are based on real-world scenarios to help you master a new concept, tool or skill. We work with you to build your portfolio to showcase your skills and achievements. 
Award Winning Learning Platform
You will be learning using our homegrown technology platform Refactored AI that is recognized as "Most Promising Work of the Future Solution" in a global competition by MIT SOLVE. Our platform also received General Motors "Advanced Technology" prize  and McGovern Foundation's "Artificial Intelligence for Betterment of Humanity" prize. 
Placement Assistance
Colaberry's program, platform and ecosystem empowers you with skills that you need to succeed in your job interviews and transition into a high paying careers. Over 1/3rdof Colaberry graduates receive job offers after their first in-person interview. We provide you continuous mentoring and guidance until you land your job; and provide you post placement support for twelve months so that you not only survive but thrive in your career. . 
Financial Aid
At Colaberry, we strive to create opportunities for all. We work with each individual to ensure the cost of the training does not hold them back from becoming future-ready. We offer various payment plans, payment options and scholarships to work with the financial circumstances of our learners. 
Military Scholarship
Colaberry is committed to supporting men and women who have served our country in uniform. As part of this commitment, we offer Military Scholarships to enable active-duty and retired military members to transition into civilian life. We have already helped numerous veterans by creating a pathway to rewarding and exciting careers in data science and data analytics. We hold alumni events, and provide an extensive support system and a strong community of veterans to help our students succeed. Contact our enrollment team to find out more about how we can help you.